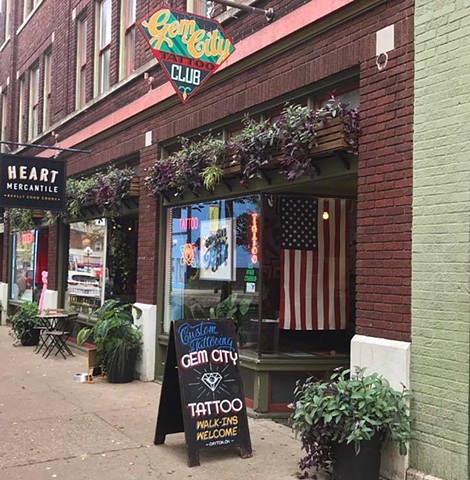 Monday-Tuesday by appointment. Wednesday/Thursday/Friday/Saturday 12-8 p.m. Call ahead for availability.*
*Limited walk ins available. Most tattoos require an appointment. Walk in tattoos are very simple and require very little preparation. Or come in and pick one of the artists pre-drawn designs.
*Piercing by Baby Olive Wednesday-Saturday
Gem City Tattoo Club, located in Dayton's Oregon Historic District, has been serving the greater Dayton area since 2010. We pride ourselves on providing outstanding body art services in a safe and friendly environment. With artists specializing in nearly every style of tattooing, we are ready to work with you on your next tattoo, big or small. Please browse our artists' portfolios and contact them directly to set up an appointment.
436 E 5th St.
Dayton, OH 45402
(937) 443-0335